Upcoming
Training Courses
Certificates of Completion are offered for courses listed as Upcoming Training Courses
THE BUSINESS ARCHITECTURE BOOTCAMP™ SERIES
The BAA Business Architecture Bootcamp™ Series is unique because it prepares attendees to sit for and pass the Certified Business Architect (CBA)® exam AND readies them to practice the discipline.  BAA offers the public Bootcamp Series twice annually on average, with in-house Bootcamps available upon request. To learn more and register, click on the button below.
ADVANCED BUSINESS ARCHITECTURE COURSES
BAA offers an ongoing series of advanced courses that move attendees from the basics to an advanced level of expertise. The Advanced Series takes a deep dive into 6 topic areas that include strategy crafting, business architecture baseline deployment, agile alignment, team building, and architecture and software design. To learn more and register, click on the button below.
If you have any issues with registering for the events, or if you are interested in designing a Corporate Package, please contact us at

[email protected]
ON-DEMAND, PRE-RECORDED COURSES
Our Online Training provides business professionals with on-demand, pre-recorded courses on a variety of business architecture topics that can be accessed at any time. Business Architecture Associates will be adding new online training courses frequently. Stay informed: sign up to received notifications when new sessions are added.
LEVERAGING BUSINESS ARCHITECTURE FOR RISK & CRISIS MANAGEMENT
This webinar defines how organizations can leverage business architecture to inform decision-making related to risks and crisis preparedness and management. It will illustrate the value of business architecture through various business scenarios and discuss practical steps for moving into action.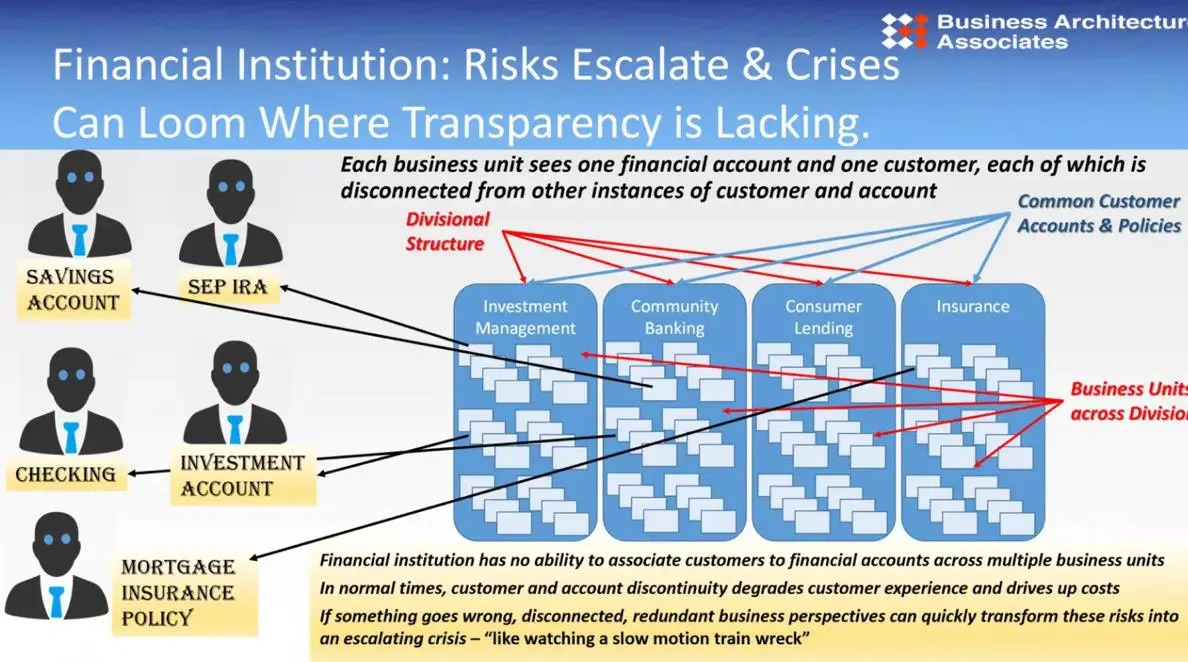 BUSINESS ARCHITECTURE TRENDS, PREDICTIONS & RECOMMENDATIONS
This webinar explores current trends and future predictions for business architecture, including business usage scenarios, the role of ecosystems, the future of the practitioner role and more. It will outline the ubiquitous nature of business architecture at the upper end of the maturity scale and the increasing range of value business architecture will deliver in the long-term.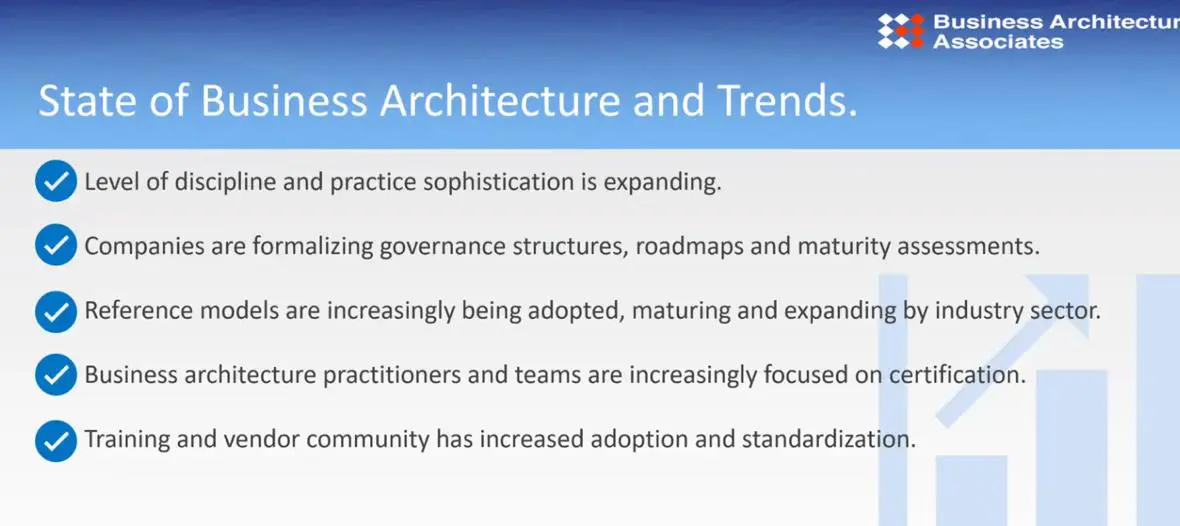 BUSINESS ARCHITECTURE SIMPLIFIED
This complimentary course provides a brief overview for the layperson on what business architecture is and how it is used. This course is useful to business architecture practitioners and leaders as well as anyone who would like to learn more about the discipline.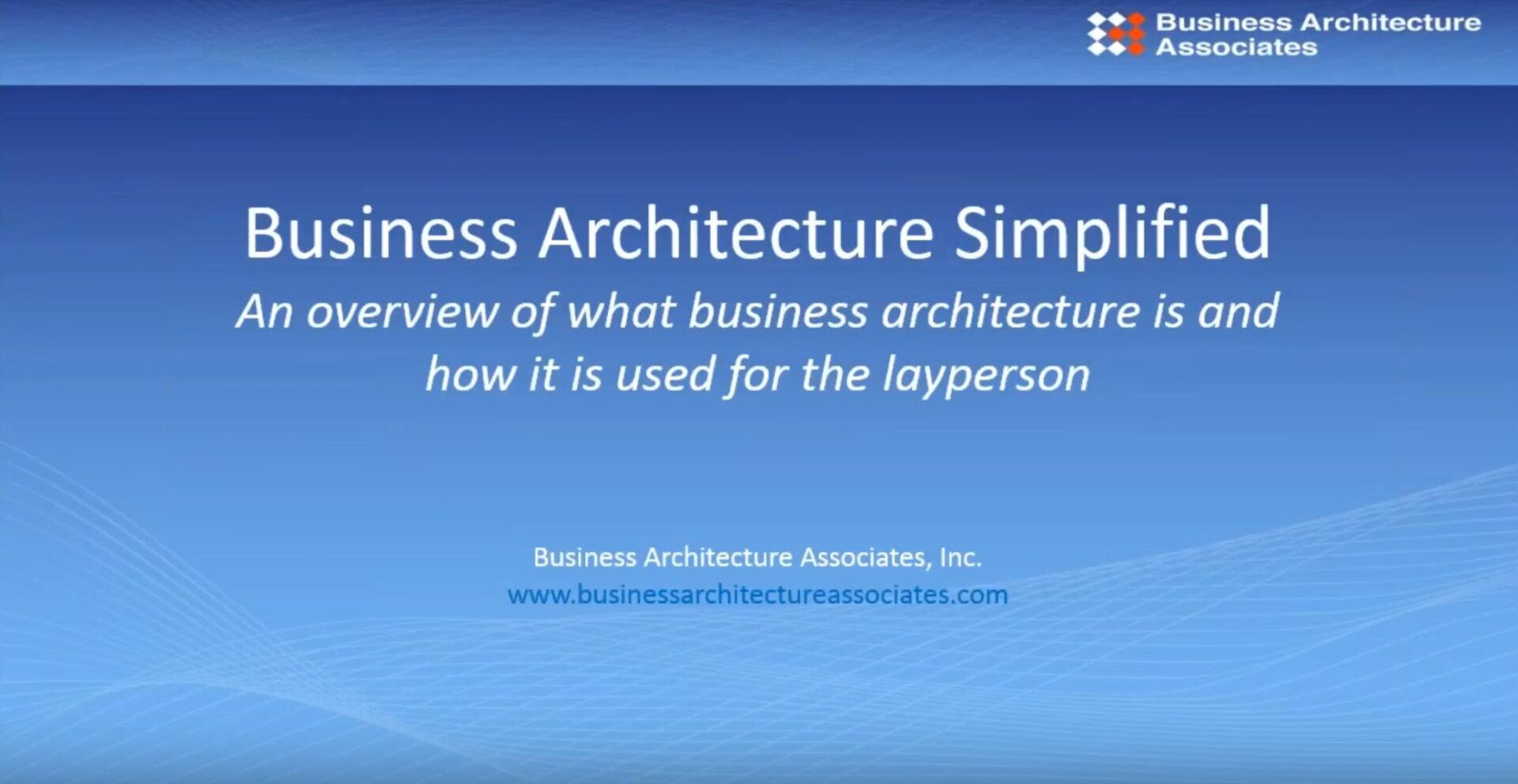 BUSINESS ARCHITECTURE'S ROLE IN STRATEGY EXECUTION
This webinar will highlight business architecture's valuable role in enabling strategy execution and the benefits organizations can achieve as a result. It will also discuss practical steps to ensure that strategies are actionable for addressing common business challenges.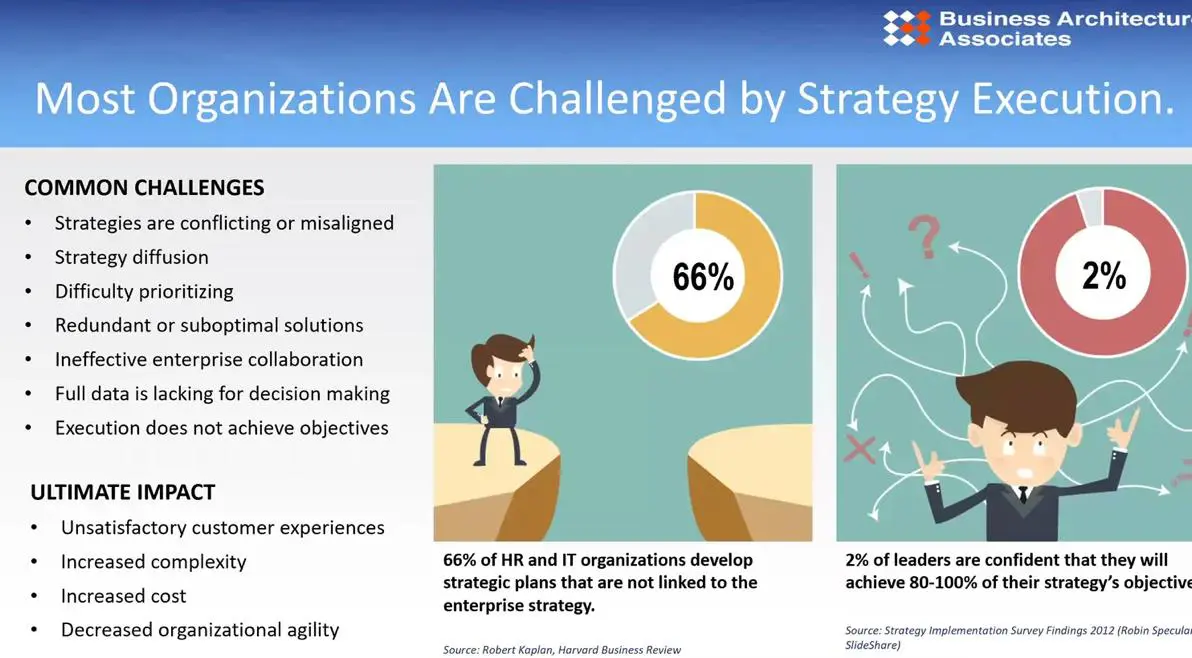 To access any or all of these videos free of charge, please fill out the form.