The Different Resources
We Offer
BUSINESS ARCHITECTURE – THE GATEWAY TO TRANSFORMING
AN ORGANIZATION INTO AN AGILE ENTERPRISE
Business Architecture Associates | September 2018
Organizations struggle with realizing business strategies, particularly when they cross-business unit, products, and external business domain boundaries. The question is, why? Research shows that, more often than not, failure to realize business strategies is not because the strategies are ill-conceived. Instead, these failures often occur because the scope and impact of those strategies are vague or unknown.
Business architecture changes the game by enabling organizational agility through an effective, coordinated translation of business directives into targeted results from strategy formulation through strategy realization. Business architecture allows organizations to frame the scope of business strategies, programs and projects, and related investments from the start in clear, unambiguous terms. Download the complete white paper.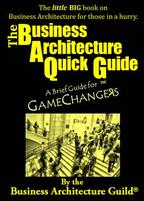 BUSINESS ARCHITECTURE
QUICK GUIDE
Business Architecture Guild® | January 2018
The Business Architecture Quick Guide represents the collective experiences of a worldwide community of practice, courtesy of the Business Architecture Guild®. Co-authored by BAA partners and Guild co-founders William Ulrich and Whynde Kuehn, along with other Guild Editorial Board members, the Quick Guide covers the discipline of business architecture from end-to-end. This valuable book also contains a wealth of additional resources that will enable organizations to take the next steps and begin to reap the benefits that other organizations are already achieving.
The Quick Guide is available for order from Barnes and Noble and Amazon. Bulk orders may be placed at MK Press.
BUSINESS ARCHITECTURE
APPLICATION SERIES
Cutter Consortium | August 23, 2017
Cutter Fellow and BAA Partner William Ulrich and Cutter Senior Consultant and BAA Partner Whynde Kuehn teamed up to create a four-part series highlighting business architecture's role as a critical enabler of organizations to operate, transform, and compete effectively.
The complete series of Executive Updates are below, available to Cutter members, and upon request.
BUSINESS ARCHITECTURE
STRAIGHTTALK
S2E Transformation Inc. | August 23, 2017
StraightTalk is a professional business blog on a mission to explain business architecture, end-to-end, to help to advance the discipline globally through shared knowledge. It's like your personal guide through the world of business architecture – delivered twice monthly. Written by long-time business architecture practitioner, educator, and thought leader Whynde Kuehn, this blog combines the most recent evolution of the business architecture discipline today with years of experience gained at many different organizations. Sign up to receive the latest post.
BUSINESS-DRIVEN
DIGITAL TRANSFORMATION
Cutter Consortium | September 19, 2016
More than just a bullet point in a strategy session or the current buzzword, a digital transformation begins with big visions and strategies. Still, the organizations that can execute upon them in a coordinated way will win with agility. BAA Partner and Cutter Senior Consultant Whynde Kuehn, served as guest editor for the August/September double-issue of Cutter IT Journal, focused on business-driven digital transformation. Kuehn's introduction provides an overview of how to approach digital transformation from a truly top-down, business-driven perspective and sets the tone for the Journal. BAA Partner and Cutter Fellow William Ulrich contribute an essential article highlighting the critical role of business architecture in providing the holistic business perspective that serves as the foundation for continuous digital transformation across a business ecosystem. Download complimentary copy